👋 Hi, I'm James. Thanks for checking out Building Momentum: a newsletter to help startup founders and marketers accelerate SaaS growth through product marketing.
---
If you're in SaaS, you definitely know about Hubspot's inbound marketing funnel…
… and you'll also know it's replaced by their flywheel:
If you're in a billing or bizops role, you probably know about the Zuora 9 Keys to Subscription Success.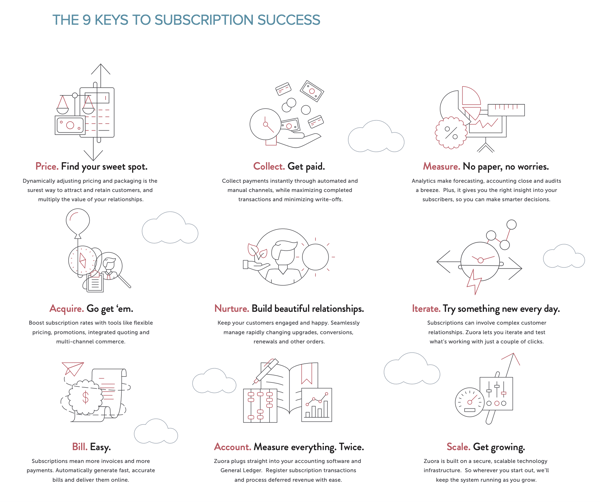 And if you're in Customer Success, you probably know of Gainsight's Periodic Table.
These are all examples of a custom methodology that these companies have developed to help guide not just their product strategy, but their product narrative.
Any company can develop a methodology. Those that do it well are able to stand out, sell higher value, and sell faster by educating their prospects, customers, and the market of a new way to operate.
Why create your own methodology?
There are a few different ways to differentiate from your competitors, but the most resilient option is to have an opinion.
This doesn't necessarily mean have an opinionated product (but it could do).
It means to have a certain view of how the vertical, industry, and jobs you're supporting can be done better – usually based on your own unique wisdom.
By presenting a new mental model (if it works!), you're able to convince prospects that you have the upper-hand, experience, nous, and specialism. It gives you an opportunity to build a stronger product strategy that's built around the process, cementing your ability to better meet those customer needs.
And, when converted to your sales narrative, you're able to do one of my favorite types of sales experiences: the whiteboard map. This is where your sales rep can pull out your customer's challenges and aspirations through discovery conversation, jotting them on the board in seemingly random positions – before going in for the kill and wrapping it all in your methodology. Suddenly, random points become part of an interconnected map on the path from chaos to success. I've only ever seen this work well.
Building a methodology: examples
Example 1
At Kayako, we looked to build a methodology for delivering something we called 'unified customer service'. UCS was part of our manifesto, a new way of approaching customer service strategy.
We began with some principles.
Firstly, the model needed to be built on verbs, active elements that described the core tasks someone needed to master to unlock UCS.
The model also needed to work in a number of different contexts, with prompts like these to guide our thinking:
The market – The customer service shift means it's critical that I:
Our customer's business – To deliver an effortless customer experience, I must:
Our customer themselves – To get better at customer service, I must improve my ability to:
Our product – With Kayako, I can:
Our marketing – Take a look at this blog post on how to:
Our roadmap – These features help our customers to:
Lastly, we paraphrased context from Zuora's 9 Keys guide to set the scene of how the blueprint should work:
These seven steps serve as a foundational blueprint for building and scaling an effortless customer service experience.
Some of these may seem more immediately relevant to your business, but eventually all of them have to be addressed.
While individual keys may be prioritized at different times, a business must focus on the collective set as a whole.
This introductory guide is intended to outline these concepts in very broad terms.
This section sets out how these steps help businesses achieve UCS.
For each part of the framework, we added notes on:
Why the step is necessary
How it can be achieved
What the specific requirements were
Why it's important
What's blocking people from doing it now
The problem and implication that not doing so presents
The approach that businesses should take to overcome
After a lot of research, back-and-forth, and experimenting, we developed this:
8 Steps to Unified Customer Service:
Capture – Gather the right data and learn about your customer and what they're doing in real-time
Interact – Communicate with your customer on the right channel, at the right time
Understand – Apply what you know about your customer and their context to make every interaction as personal as possible
Resolve – Provide the perfect response that answers all of your customer's questions, and head off the next issue too.
Measure – Measure the impact of your effortless customer service experience on your business goals
Improve – Test and experiment to discover processes that work for you and your customers
Scale – Ensure your team, tools and processes are ready for success
We used it in some conversations and validated with customers, but unfortunately never got a chance to use it!
Example 2
At another company, we really needed a framework to help distill our narrative into something that could be repeated over-and-over, turning our product feature set into a toolbox for achieving distinct outcomes.
We distilled what we knew about both the achievements our customers were making and internal thinking about what else the product could support to create a 'five star framework'. This had real legs, although was relatively short-lived due to changing priorities!
How to build your own methodology
In both of my experiences, we used mostly our internal understanding of our customers and the industry to determine the stages and steps in our methodology. This was fine… but in hindsight, we over-thought it. Without external insight, we were left second-guessing the maturity of our customers and the market.
If I were to do it again, I'd focus solely on our customers jobs-to-be-done map, and use that research to form the basis of our framework.
It's really important to extract, simplify, and reduce the knowledge you gain into core steps that can be followed and put into practice by your ideal customers. This means if your customer is an advanced thinker, go to the same level. Otherwise, always err on the side of caution and message for the lowest common denominator. Being unnecessarily smart won't do you any favors.
Think about your visualization from the beginning and involve a designer if you can. Are you a building a cyclical process, a puzzle to be completed, or a maturity framework? This can have a big impact on the way you build and frame your methodology.
Lastly, validate with internal experts, customers, and other friendly folks in the market. Your framework — and the resulting product strategy and narrative you build from it — won't be successful if it doesn't resonate with the intended audience.
Show 'how' with your methodology
Getting your methodology right can set a solid foundation to break through the market, differentiate in the mind of your customers, and speed up sales by offering not just the product, but the methodology for success. Good luck!
---
---
Thanks for reading! Let me know what you thought – find me on Twitter and LinkedIn.
P.S. If you've found value in Building Momentum, could you buy me a coffee? Here's my tip jar – any support is gratefully appreciated!
P.P.S: If you enjoyed this post, will you share Building Momentum with your network?