👋 Hey there. This is The Overview, a weekly roundup of noteworthy B2B SaaS stuff. You'll find interesting thoughts, articles, and more from around the internet.
---
Case studies are not always shiny success stories
This was something I learnt at my first proper product marketing job about 10 years ago.
Case studies are not top-of-funnel content. They are primarily BOFU collateral, used to convince and persuade rather than generate awareness.
That means case studies shouldn't always reflect a shiny, easy world where your product saved the day. They're an opportunity to build trust by showing you understand (and can help overcome) the challenges that customers like them are actually facing.
Don't waste the opportunity to be authentic, and let your prospects know what they can expect. Especially if you can weave some unconventional wisdom into the diagnosis or solution, you can show that you know their situation and offer a straightforward way out.
Competitor differentiation is not features
This is a great tweet: it's so obvious.
Go and try it now. Ask a sales rep to explain how you're different from your main competitor. And listen as they unfurl a feature-laden pitch that represents a comparison chart more than a sales response.
It's not enough to compete against a competitor: we have to compete for a customer. That means understanding what they value, not just the features they can use.
Customer discovery before product and sales
It's also so much easier to sell a product for a customer that you deeply understand, but many will try and jump straight to selling.
"Let's iterate our way there," is not always a smart thing to do. Sometimes, you just need to bite the lead bullet and do the work.
Check out my recent post on how to fix traction issues by improving your positioning, understanding the buyer journey, and making maximum impact with product launches.
Swipe File: Leslie's Compass (GTM framework)
📚 When you become a free Building Momentum subscriber, you get access to my exclusive product marketing swipe file! Click here to find out more.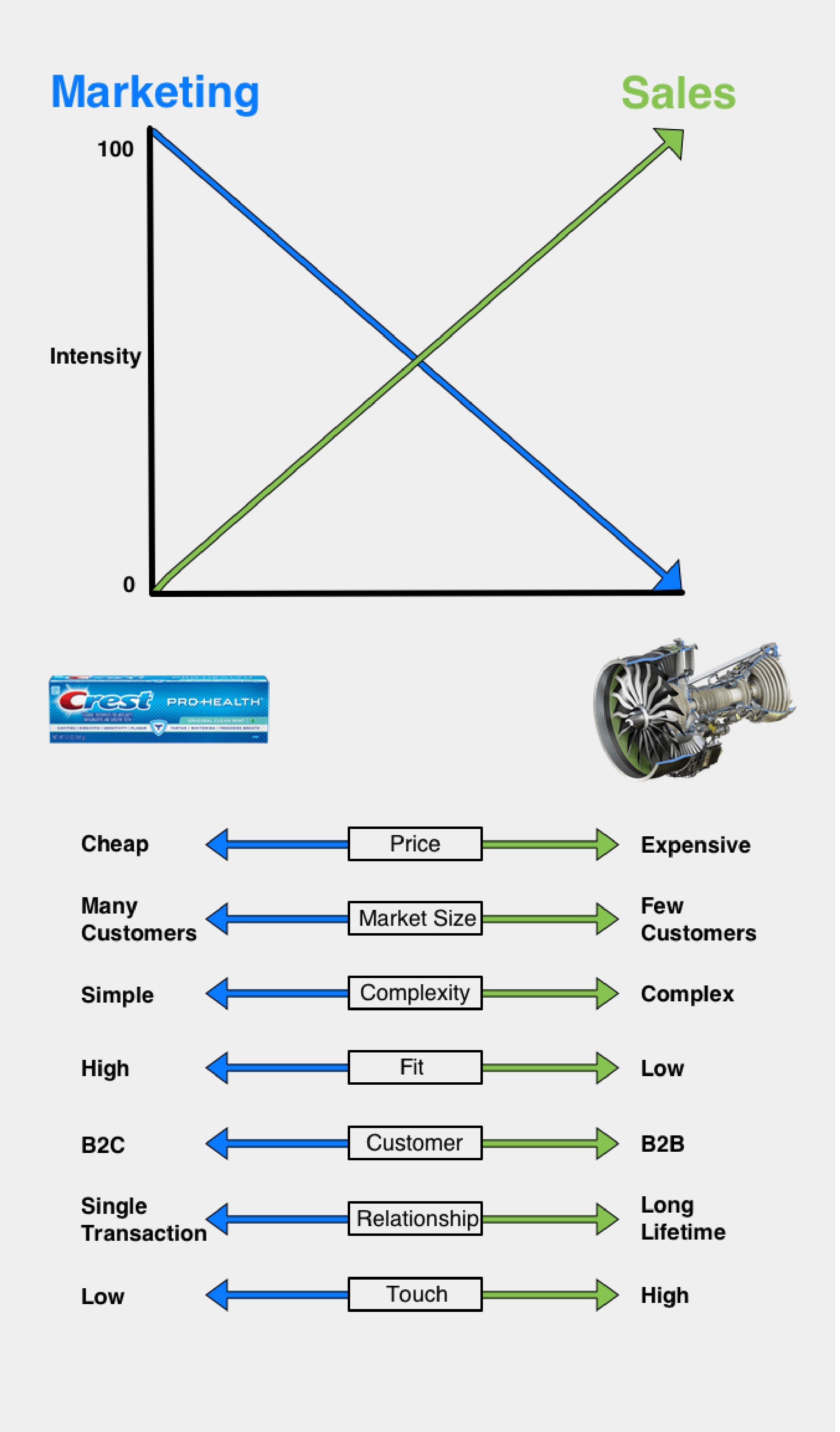 This framework first shared on First Round Review is a simple, yet effective way to examine whether your go-to-market strategy should be marketing-led, or sales-led, and the different dimensions that impact the decision.
If you're marketing-intensive, the product is bought. If it's sales-intensive, the product is sold.

Mark Leslie
This post is one I recommend to everyone, time and time again.
---
Thanks for reading! Let me know what you thought – find me on Twitter and LinkedIn.
P.S. If you've found value in Building Momentum, could you buy me a coffee? Here's my tip jar – any support is gratefully appreciated!
P.P.S: If you enjoyed this post, will you share Building Momentum with your network?